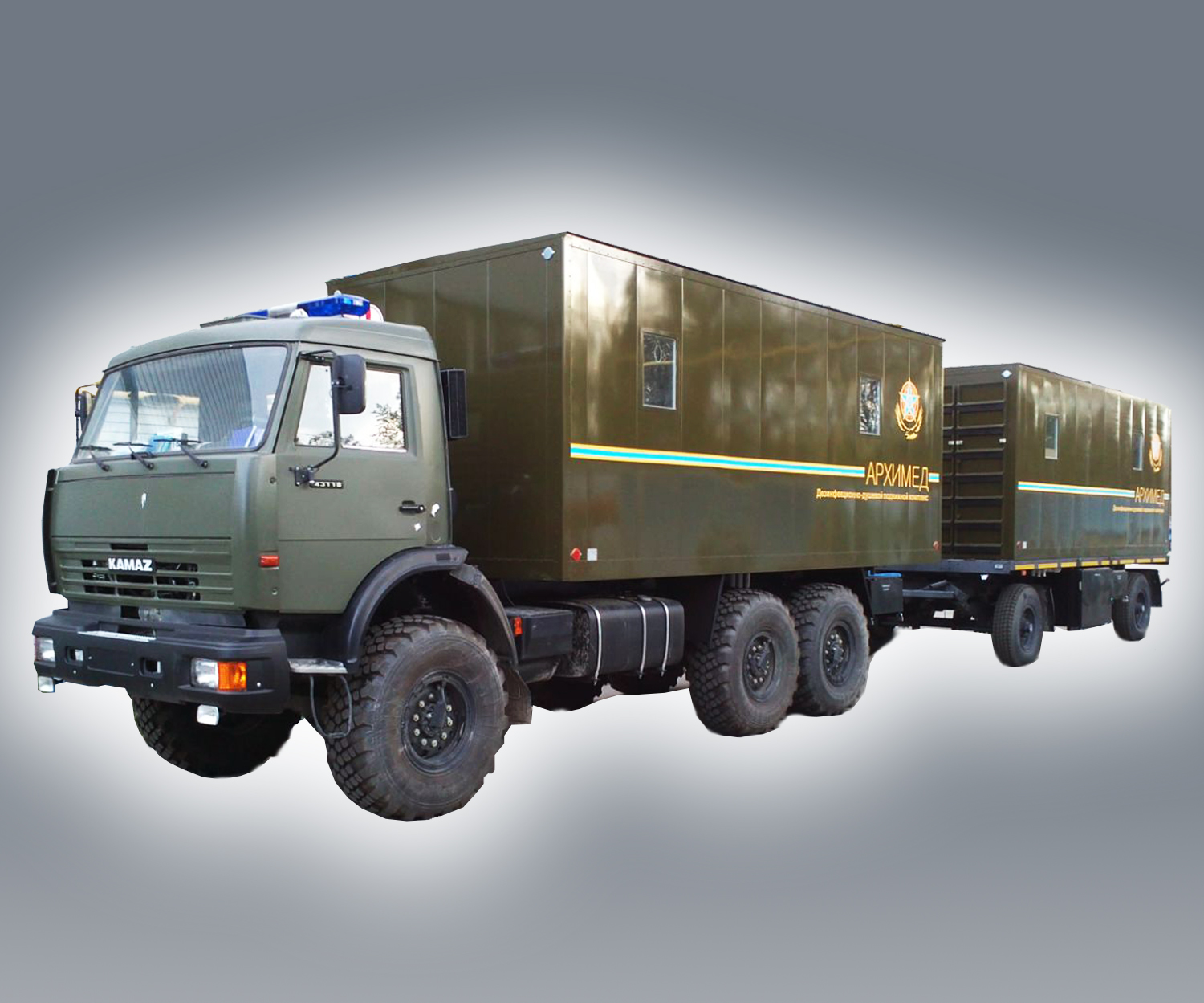 Disinfection and shower complex "Archimed"
The complex is designed to carry out sanitary treatment or hygienic washing of wounded and sick, including stretchers, disinfection (disinsection) of uniforms and bedding in the field. The standard does not apply to the conditions of radiation and chemical accidents.
Description
Characteristics
The complexes are designed for the units of the Emergencies Ministry, the Ministry of Defense, the Interior Troops of the Ministry of Internal Affairs and others involved in the elimination of the consequences of natural disasters, industrial disasters and other emergencies.
The complexes are mounted on the chassis of cars or trailers, which allows them to be moved to the location on their own. The complexes operate year-round in the field in various climatic zones. With their help, not only hygienic washing of people is carried out, but also disinfection and disinsection of clothes. Disinfection of clothing should be carried out by steam—air or steam-formalin method, and disinfection – by steam-air method.
The complexes work in one place for a long time, both as part of medical formations and in isolation from them. The complexes are reliable, simple and safe to operate.
Overall dimensions of the body:
— height, mm, not more than — 2550;
— width, mm, not more than – 2500;
— length, mm, no more than — 6000.
Body weight, kg, not more than — 3800
The weight of the transported cargo, kg, not more than 2000
The device of the complex
In its expanded form , the complex consists of two divisions:
1) Boiler-energetic located in the van body, where there are:
— mobile electric steam generator;
— diesel generator with control;
— flow electric water heater;
— a set of pipelines with fittings, shut-off valves and shower heads.
2) The sanitary inspection unit located in the sanitary inspection tent. The sanitary inspection tent is a pneumatic frame structure. Disinfection chambers, which are part of the sanitary inspection tent, are designed for disinfection (disinsection) of cloth–paper and leather-fur uniforms, bedding and shoes, two pieces are installed at the entrance to the changing rooms of the DDU installation.
The chambers are the same in their device and work alternately.
Chamber Dimensions:
— length, mm 2000;
— width between frame stands, mm 935;
— height from the pallet to the ceiling, mm 1700;
— floor area, m2 1,8;
— volume, m2 3.
The rubber-fabric RDV tank with a capacity of 5 m3 is designed for water storage. When deployed, it is installed near the installations and filled with water either from a reservoir by a pump or imported water from a tank. Water drawing from the tank is carried out through the suction sleeve of the feed pump. At subzero temperatures, in order to avoid freezing of the water in the tank, it is heated by steam through the heating sleeve included in the sanitary treatment kit.