12.05.2022
JSC «Aktubroentgen» celebrates its 80th anniversary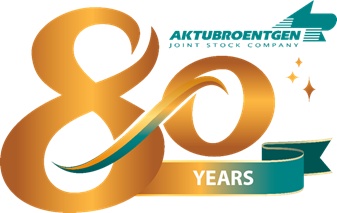 This year, the only manufacturer of high-tech X-ray diagnostic equipment in the Republic of Kazakhstan, JSC "Aktubroentgen" celebrates its 80th anniversary.
A lot has been accomplished in 80 years, enormous experience has been accumulated, many goals and objectives have been achieved. The company has its own unique history.
At the end of 1941, the "Moscow Union State X-Ray Plant" was evacuated to Aktobe, Kazakh SSR. In a short time, which was determined by the special requirements of wartime, an effective production base was prepared and, in May 1942, the company began producing defense products. After the end of the war, the company switched to the production of peaceful products. Production grew and developed rapidly. So, along with X-ray medical devices, X-ray devices for industrial flaw detection, as well as various consumer goods, units for gas purification filters, etc., were mastered for production, which collectively had great demand not only in the USSR, but also abroad.The plant rightfully became one of the largest specialized enterprises of the Union significance. In 1990, the company had 80 thousand square meters of production area, as well as the number of employees – 4.5 thousand people. Production volumes were up to 6 thousand X-ray machines per year.
In 1998, the company underwent a reorganization procedure. The management managed to preserve the main production and engineering potential, production equipment, as well as the production areas of the main (base) production area in the conditions of economic collisions.
Thus began a new modern stage of economic activity of the enterprise. In 2008-09, new production facilities equipped with the latest equipment manufactured in Japan were put into operation.
At the moment, the company has a modern production base, engineering and technical potential, the development and expansion of the range of diagnostic medical equipment based on the latest advanced achievements in the field of digital computer technologies continues.The modern production range of the enterprise includes:
stationary X-ray diagnostic complexes designed for X-ray, pulse fluoroscopy, obtaining sighting images and images during general radiography, digital radiography and longitudinal horizontal digital tomography (RDC "ARDIAGNOST-6", "ARDIAGNOST-8");
mobile ward X-ray diagnostic devices for various purposes ("ARMAN-32", 12L7 Arman-2);
stationary X-ray fluorographic digital devices (12FK1 "Fluarkom", "Zhenis" with flat panel detector);
mobile X-ray fluorographic digital complexes (KRF-112, based on KAMAZ, MAZ, Hyundai, trailer, Mercedes, Volkswagen, Gazelle);
mobile medical universal and specialized complexes based on KAMAZ, MAZ vehicles (mammography, dentistry, primary medical care, medical and bacteriological laboratories);
mammographic analog and digital devices ("AR-Mammo").
All news