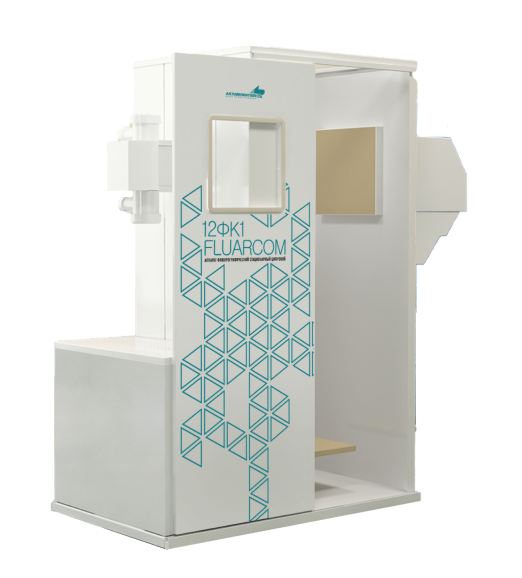 X-ray fluorographic apparatus 12FK1 "FLUARKOM"
It is designed for conducting filmless chest fluorography in a standing position and displaying images on a computer display in fluorographic offices, clinics and health centers, as well as as part of mobile (automobile) X-ray fluorographic complexes.
Description
Characteristics
The computer–controlled fluorograph is not just DICOM compatible – the software works in the DICOM standard. This standard is its natural protocol for saving and transmitting images. The possibility of using simultaneously two software-synchronized monitors (conventional graphic and monochrome) at the workplace of a radiologist. The radiologist has the ability to simultaneously view all the patient's data, including his entire database of images on one monitor, while a large high-precision image of the fluorogram can be available on the second monochrome monitor.
— Fully digital fluorography device;
— Low radiation dose of the patient;
— The reliability and quality of the device have been tested for 20 years in hundreds of clinics in Kazakhstan and Russia;
— An X-ray protection cabin with an equivalent of 1.3 mm reliably protects personnel from X-rays;
— High throughput capacity;
— High resolution and contrast sensitivity parameters on the computer screen allow to obtain images that are most comfortable for analysis by a radiologist;
— Ease of positioning of the patient, brought to perfection over 15 years of product production.
— The vast majority of fluorographs in Kazakhstan are 12FK1 FLUARKOM.
— Availability of a wide network of service centers in the Republic of Kazakhstan directly from the manufacturer, which reduces the repair time;
— Additional feature – diagnostics of structures requiring increased spatial resolution;
— Spatial resolution of at least 3.4 line pairs/mm (centered).
— Contrast sensitivity – 1%;
— The size of the diagnostic field is 430×430 mm.
— There is no need for the staff of the complex to carry out additional work on drying and developing the film, sorting and storing X-rays.
The device is additionally equipped with a thermal printer, which, if necessary, allows to print a picture on thermal film or thermal paper. A voltage stabilizer can be supplied with the device, which will eliminate the risk of equipment failure due to unstable power supply.